Rubrique complètement futile à destination exclusive des collectionneurs compulsifs !
Il existe parfois des variations assez importantes entre les différents pays éditant des singles dans les années 80 : en voici la preuve avec le pressage canadien de So Cold The Night.
Tout d'abord, et c'est cela qui m'a alerté quand je l'ai trouvé, la mention en haut à droite R E M I X E D sur la partie avant de la pochette, celle-ci étant pour le reste identique à la pochette britannique. Le design concept est de Jimmy (ce qui est suffisamment rare pour le noter !) et la photo de Patrick Sarfati, un photographe français réputé. Pour le modèle en silhouette photographié voir cet article [here] .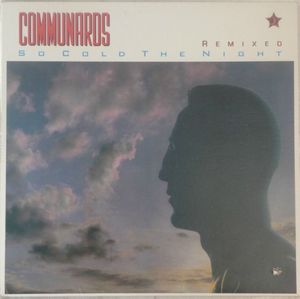 L'arrière de la pochette est lui aussi semblable mais avec la référence catalogue propre à PolyGram Canada (LDSX 235) et surtout un tracklisting original :
a So Cold The Night (Remixed Club Version)
b So Cold The Night (7" Version)
So Cold The Night (Instrumental)
Ce qui est ici étrange, les pressages canadiens sont coutumiers du fait, c'est le changement de dénomination des versions. Quelle est donc cette Remixed Club Version ? Et l'Instrumental ?

La partie centrale du vinyl devrait d'être d'une grande aide... mais ce n'est pas le cas ! Side One - So Cold The Night (Remixed Club Version) 8'45 - remixed by Mike Thorne : donc c'est tout simplement le Remix du 12" LONXR 110 mais ce remix est plus court de plusieurs dizaines de secondes ! Side Two - So Cold The Night (7" Version) 3'45 : cette version 45 tours est franchement écourtée et So Cold The Night (Instrumental) 9'45 : il existe bien une version instrumentale sur le 12" LONXDJ 110 mais elle est plus courte ! C'est à ne rien comprendre ! Le mystère sera résolu prochainement quand ma platine vinyle, une Planar 3 de Rega, sera de retour de sa révision.