03 mars 2019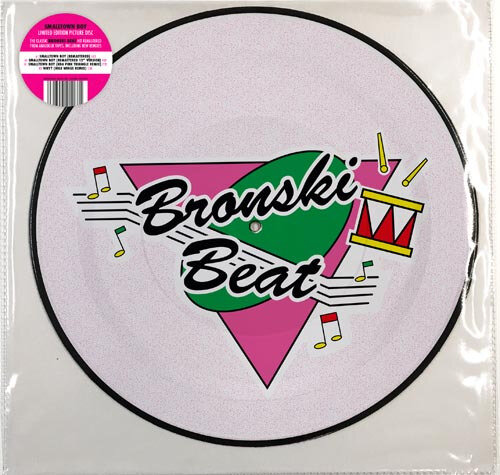 Smalltown Boy RSD 2019
12" Limited Edition Picture Disc
A1. Smalltown Boy (Remastered) 05:03
A2. Smalltown Boy (Remastered 12" Version) 9:01

B1. Smalltown Boy (KDA Pink Triangle Remix) 07:32
B2. Why? (Wax Wings Remix) 05:30
"To celebrate 35 years of Bronski Beat playing their first gig, London Records recently reissued 'The Age Of Consent.' This limited-edition picture disc exclusive to Record Store Day features the era-defining pop classic 'Smalltown Boy' remastered from analogue tapes. Plus for the first time on vinyl the huge recent KDA remix of the track, the extended club mix and the Wax Wings remix of 'Why?' Packaging : 12"" picture disc with original Bronski Beat logo in clear plastic sleeve with flap."
26 novembre 2018
25th of January 2019,
the wrongly underrated album
"Manage The Damage"
will be released
as a 3CD deluxe version
with many bonus tracks.
Jimmy Somerville's third solo album, 1999's "Manage The Damage" was his first as an independent artist after splitting with London Records in 1995 after twelve years of recording with them both as a solo artist and with bands Bronski Beat and Communards. This is the first ever expanded edition of this album and, developed in conjunction with Jimmy's management, with its 43 tracks over three discs, celebrates both the album and all of its associated singles. All the B-sides and a wealth of dance floor remixes are included herein. The deluxe packaging includes a comprehensive 32 page booklet insert containing song lyrics, a treasury of promotional photos from the period and a detailed essay on the album and its sensibilities written by 'Andy Bell is Torsten' playwright Barney Ashton.
The album was a songwriting and production collaboration with Sally Herbert (Banderas, Communards) who was, at the time, Jimmy's flat-mate; the album was mostly written in their home studio on the then emergent new songwriting technology 'Pro Tools'.
Jimmy's first bona fide independent release after his London Records era had been the 1997 re-record, and remixes thereof, of 'Safe', a favourite song of Jimmy's from his previous solo album 'Dare To Love' that he had originally recorded for London Records as the album track 'Safe In These Arms'. These tracks were, however, not released in the UK at the time and this expanded edition collects together the best of those remixes of 'Safe' as well.
Jimmy's new found freedom enabled him to write his most nuanced, honest and direct album; the lyrics deal with the fallout from domestic violence, the fallacy of imposition of religious morality, prostitution, the optimism generated by the new 'combination therapies' in the treatment of HIV and, as always with Jimmy, "Manage The Damage" is a heartfelt celebration, and promotion of, homosexual sensibilities, social activism and love.
SFE 075T CD 1
MANAGE THE DAMAGE

01. HERE I AM 04:15
02. LAY DOWN 04:01
03. DARK SKY 03:16
04. MY LIFE 04:33
05. SOMETHING TO LIVE FOR 03:52
06. THIS MUST BE LOVE 05:05
07. GIRL FALLING DOWN 03:55
08. SOMEDAY SOON 03:35
09. EVE 03:49
10. STONE 04:22
11. ROLLING 02:59
12. BLAME 04:28
13. I BELIEVE 3:59
14. TEAR FOOL 05:41
15. MOVING ON 03:13
16. LAY DOWN (Almighty Radio Edit) 03:45
17. SOMETHING TO LIVE FOR (Sounds Of Life Full Vocal Radio Mix) 04:14
18. SAFE (Todd Terry 7") 03:47
19. DARK SKY '98 03:24

CD 2 - "CLUB ROOT BEER" THE DANCE REMIXES

01. SOMETHING TO LIVE FOR (Sounds Of Life Full Vocal Club Mix) 5:55
02. SAFE (Todd Terry Long Session) 06:47
03. DARK SKY (S&H Mix) 05:35
04. LAY DOWN (Sounds Of Life Remix) 05:54
05. SOMETHING TO LIVE FOR (WayneG's Heaven Mix) 06:56
06. SAFE (DJ Tonka 12") 08:04
07. DARK SKY (J&S 12" Peg's Study Mix) 06:59
08. LAY DOWN (Almighty Vocal Club Mix) 06:37
09. SAFE (DJ Dovzki Extended Mix) 07:19
10. DARK SKY (Tony De Vit Mix) 08:07
11. SAFE (Todd Terry Dub) 06:16

CD 3 - "CLUB ROOT BEER" FURTHER REMIXES PLUS

01. LAY DOWN (Hoop Laid Up Mix) 05:40
02. SOMETHING TO LIVE FOR (Extended Mix) 05:01
03. DARK SKY (Dillon & Dickins Mix) 06:49
04. SAFE (Get Far Mix) 06:36
05. LAY DOWN (Bonus Disco Mix) 08:12
06. SOMETHING TO LIVE FOR (Radio Mix) 03:33
07. DARK SKY (Only Child Mix) 05:43
08. SAFE (Todd Terry 12") 06:24
09. LAY DOWN (Video Edit) 03:08
10. SOMETHING TO LIVE FOR (Sounds Of Life Dub Mix) 06:37
11. DARK SKY (Sure Is Pure Mix) 06:24
12. SAFE (DJ Tonka Instrumental) 08:02
13. SOMETHING TO LIVE FOR (with the Melbourne Gay & Lesbian Chorus) 04:08
20 octobre 2018
La version vinyle rose de The Age Of Consent :
29 septembre 2018
L'édition 2CD deluxe du 35ème anniversaire de carrière :
« Mon propos, c'était la vérité. Mais aussi mes émotions, mes espoirs, ma sexualité, ma vie. Je n'avais peur rien et j'étais surmotivé à combattre la politique de discrimination que je vivais au quotidien. Je ne m'imaginais pas devenir une pop star, je me voyais comme un fauteur de troubles » Jimmy Somerville, 2018.
Il y a 35 ans en septembre 1983 , Bronski Beat donnèrent un concert légendaire dans le club et antre de paix de référence pour les gays Londoniens, le Heaven. S'ensuivit la sortie d'un 1er album «The Age Of Consent» pour lequel les mots anglais « an era defining album » sont plus que justifiés. C'est un album qui a même défi ni toute une génération. Des titres comme «Smalltown Boy» ou «Why ?» furent à la fois en même temps des hymnes pour la communauté gay et des tubes pop mondiaux, et continuent en 2018 d'être des tubes de dance-floor.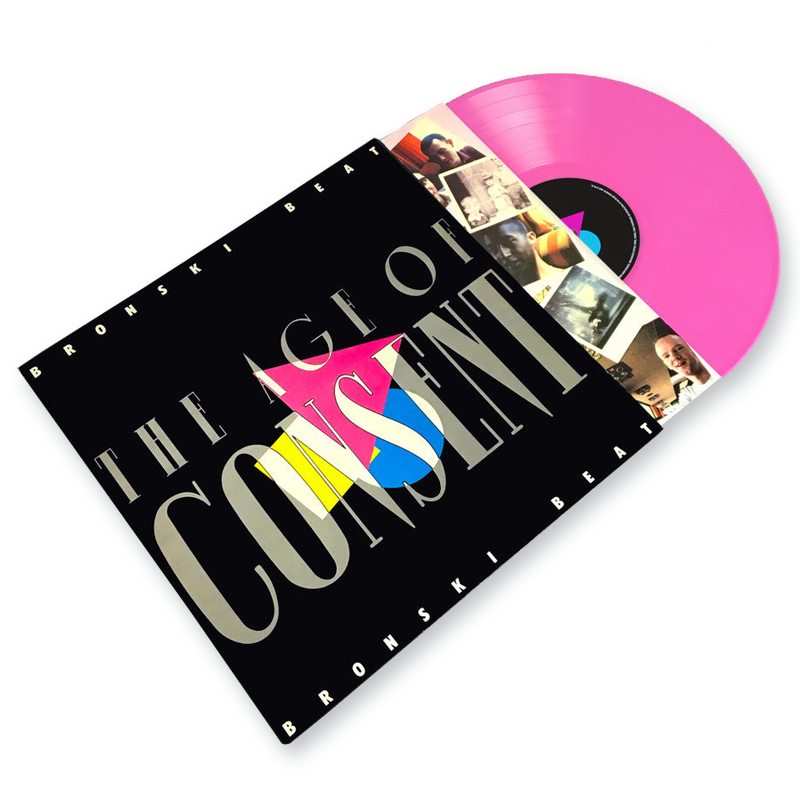 Bronski Beat ont fait bien plus qu'un album musicalement révolutionnaire, sa portée fut éminemment politique. Ils ont fait un working-class album, et Jimmy Somerville fut un working class hero très engagé aux côtés d'autres artistes tels Joe Strummer dans l' Angleterre Thatchérienne de l'époque. L'expression musicale de Bronski beat en était certes aux antipodes, mais pourtant on peut le dire : Jimmy Somerville fut plus punk que beaucoup de punks.
35 ans après, grâce au travail du nouveau label London crée par le groupe Because Music, voici la réédition deluxe de l'album à laquelle tant Jimmy Somerville que le graphiste de l'album ont activement participé.
Because Music
21 septembre 2018
B R O N S K I B E A T
Smalltown Boy (KDA Pink Triangle Remix)
available to stream/download today

KDA lands a piston pumping re-rub of Bronski Beat's classic Smalltown Boy online today.
House producer KDA has given the seminal track a 2018 dance-floor treatment
for the bonus disk of the re-issued Bronski Beat album The Age of Consent,
coming out on 26th October.

12 septembre 2018
A l'occasion du 35ème anniversaire de la sortie de l'album
THE AGE OF CONSENT du BRONSKI BEAT,
une toute nouvelle réédition sortira le 26 octobre 2018.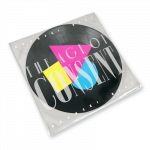 Trois formats seront disponibles :

- un vinyl "rose" avec une pochette et sous pochette reproduisant fidèlement l'édition originale.

- un vinyl "picture disc" en édition limitée.

- un double CD avec en bonus les versions étendues originales des 4 singles ('Smalltown Boy', 'Why?', 'Ain't Necessarily So' et 'I Feel Love' [avec Marc Almond]), des démos extraites spécialement des archives de la London Records (avec notamment une chanson inédite 'The Other Side Of The Tracks') et des versions acoustiques ou nouvellement remixées de 'Why?' et 'Smalltown Boy'.
Des CD singles exclusifs sont proposés pour les précommandes :

- "Smalltown Boy (12" version) / Infatuation/Memories" sur le site shopsuperdeluxe.com
- "Why? (12" version) / Cadillac Car / Why? (Wax Wings remix) / Smalltown Boy (KDA pink triangle remix edit)" sur le site bronskibeat.tmstor.es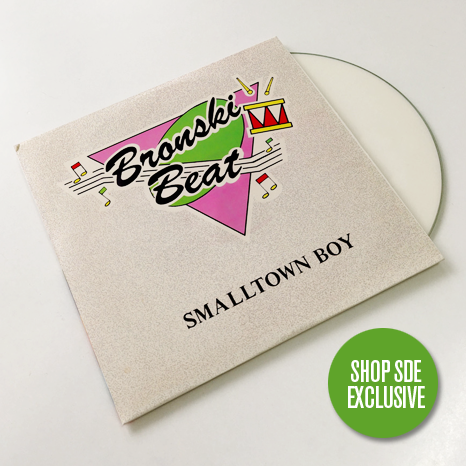 Nouvelle vidéo de 'Smalltown Boy' :
Un mini-site internet dédié est désormais disponible : bronskibeat.co.uk

CD1 Remastered Album and Bonus Tracks
1. Why? (Remastered)
2. It Ain't Necessarily So (Remastered)
3. Screaming (Remastered)
4. No More War (Remastered)
5. Love & Money (Remastered)
6. Smalltown Boy (Remastered)
7. Heatwave (Remastered)
8. Junk (Remastered)
9. Need A Man Blues (Remastered)
10. I Feel Love/Johnny Remember Me (Remastered)

Bonus Tracks
11. Why? (12" Version)
12. Smalltown Boy (12" Version)
13. It Ain't Necessarily So (12" Version)
14. I Feel Love/Johnny Remember Me (12" Version)

CD2 Rare And Unreleased Tracks
1. It Ain't Necessarily So (Kid Jensen BBC Session)
2. Memories (Kid Jensen BBC Session)
3. Crazy Maraquitta (Kid Jensen BBC Session)
4. Why? (Kid Jensen BBC Session)
5. No More War (Demo)
6. Up and Down (Instrumental demo)
7. Heatwave (Demo)
8. Ultra Clone (Instrumental Demo)
9. Junk (Demo)
10. The Other Side Of The Tracks (Demo)
11. I Feel Love/Johnny Remember Me (Rough Mix)

Bonus Tracks
12. Smalltown Boy (Reprise 2014)
13. Why? (Live at Stella Polaris)
14. Smalltown Boy (Arnaud Rebotini Remix)
15. Why? (Wax Wings Remix)
16. Smalltown Boy (KDA Pink Triangle Remix)
05 août 2018
Le château d'Hardelot, samedi 4 août 2018.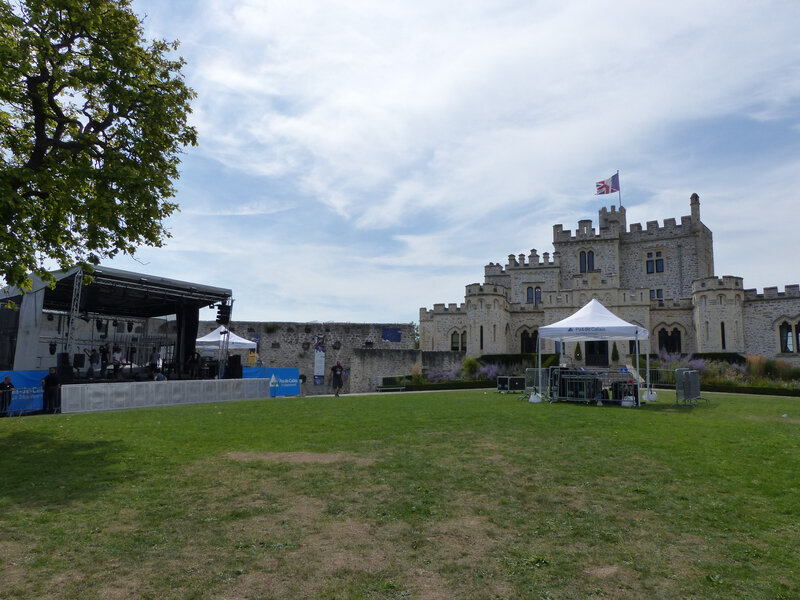 Un concert de Jimmy Somerville en France cela faisait longtemps ! Gratuit de surcroît !
C'est donc dans le cadre du Château d'Hardelot, dans l'enceinte même, qu'a eu lieu devant 2 200 spectateurs, la prestation acoustique de Jimmy. Ce format avait été inauguré, il y a 3 ans presque jour pour jour, près de Copenhague lors du festival Stella Polaris.
C'est donc la même équipe qui a officié pour l'accompagner lors de la douzaine de chansons interprétées. A savoir, les 2 choristes fidèles depuis deux décennies à Jimmy en live : Gillian et Matthew, un guitariste : Paul, et un claviériste : Nick.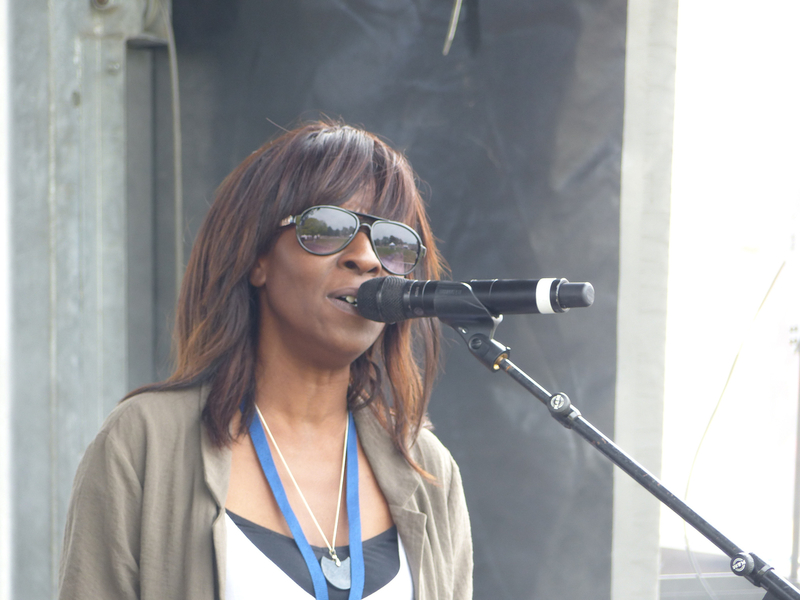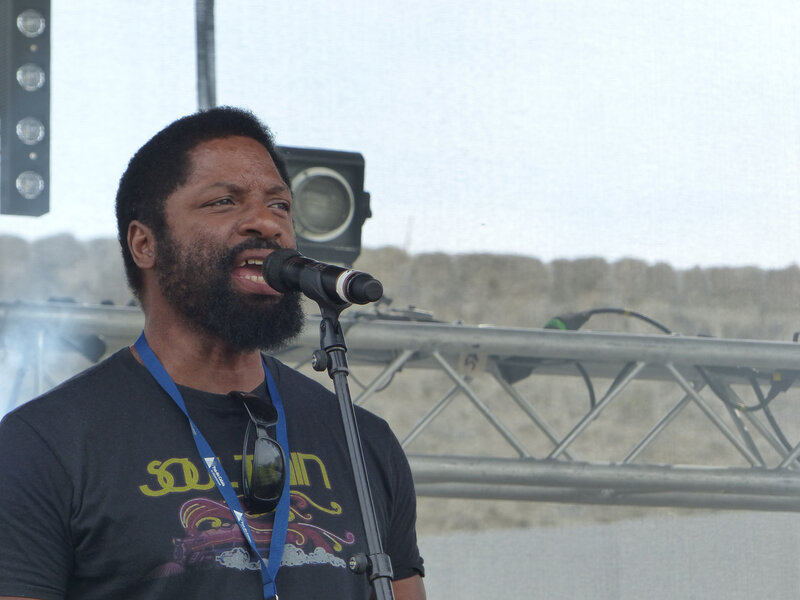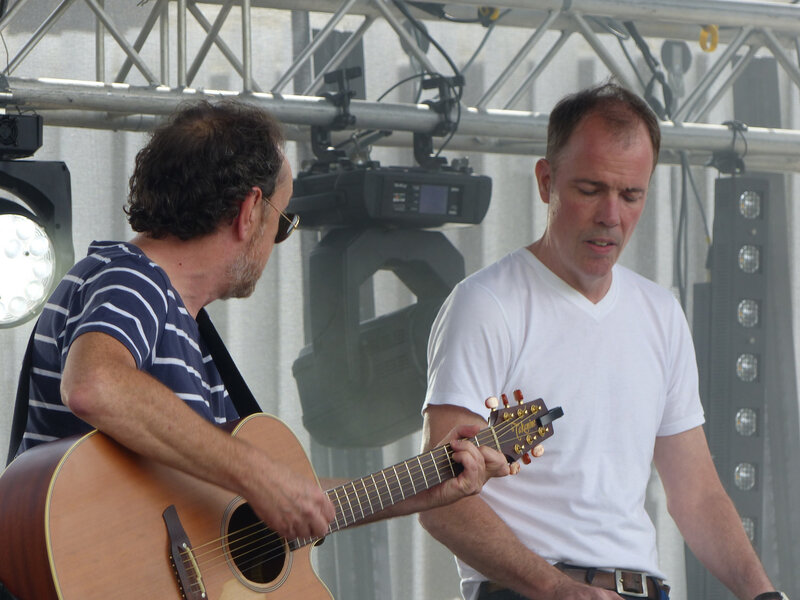 Les titres de ce set sont eux aussi presque identiques à ceux d'il y a 3 ans, avec cependant l'ajout de There's More To Love, de Never Can Say Goodbye et de 2 rappels. Le temps que les musiciens se réinstallent, Jimmy nous a gratifié d'un titre rarement entendu du Bronski Beat, Puit D'Amour (face-b du single I Feel Love) et de la reprise en final du titre d'ouverture, You Make Me Feel (Mighty Real). Jimmy s'est souvent montré espiègle durant l'enchainement des chansons au sujet de la paire de lunettes de vue qu'il a porté durant une bonne partie du concert, nous expliquant que pour la première fois il pouvait réellement voir les personnes dans le public. Il a aussi, lors d'un break au coeur de There's More To Love, déclaré sa flamme par des "je t'aime" suivi de "comment te dire adieu" et de conclure par un "no to brexit", accueilli évidemment par des applaudissements dans ce lieu de l'entente franco britannique.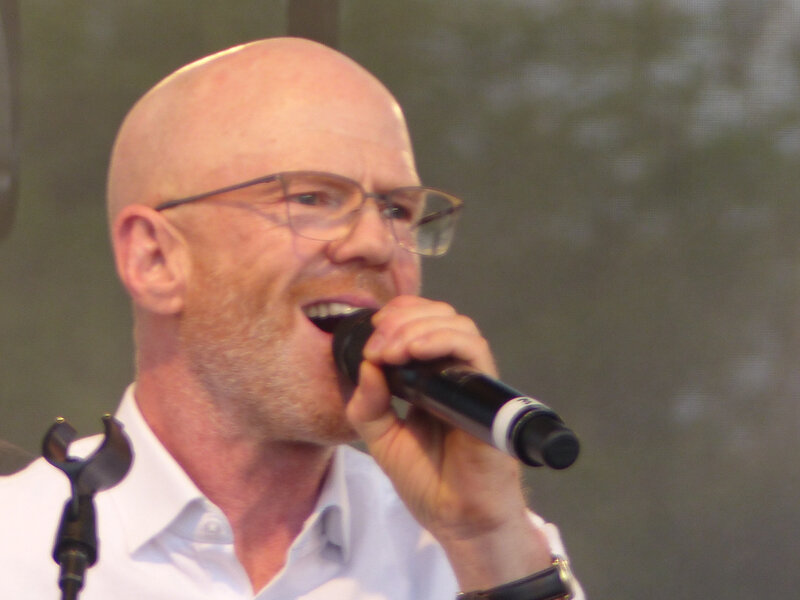 You Make Me Feel (Mighty Real) - Why? - There's More To Love - Back To Me
To Love Somebody - Come Lately - Some Wonder - For A Friend
I Just Don't Know What To Do With Myself
Never Can Say Goodbye - Smalltown Boy - Don't Leave Me This Way
+ Puit D'Amour - You Make Me Feel (Mighty Real)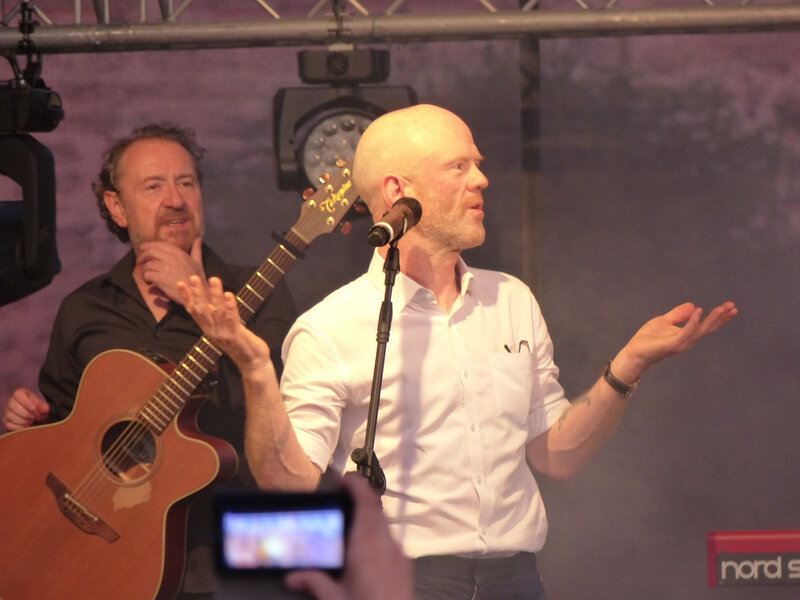 Le maître de mot de cette soirée a été l'enthousiasme.
D'abord l'enthousiasme des organisateurs qui, selon leur propre dire, offraient un évènement exceptionnel avec la venue de Jimmy. L'enthousiasme et la maîtrise de ce jeune homme de 18 ans, Sam Sauvage qui, entre chansons et rock à la française, nous a offert une belle première partie. L'enthousiasme du public, qui venant souvent par nostalgie des années 80, a su accueillir ces chansons à l'orchestration parfois très éloignées des versions originales. Enfin, l'enthousiasme de Jimmy et son groupe, souriants et détendus, qui nous ont offert un concert à la mesure de nos attentes (pas seulement une réplique exacte du Stella Polaris car les chansons, dans leur version acoustique déjà bien connue du disque, ont su se teinter de petites touches particulières rendant ce moment unique).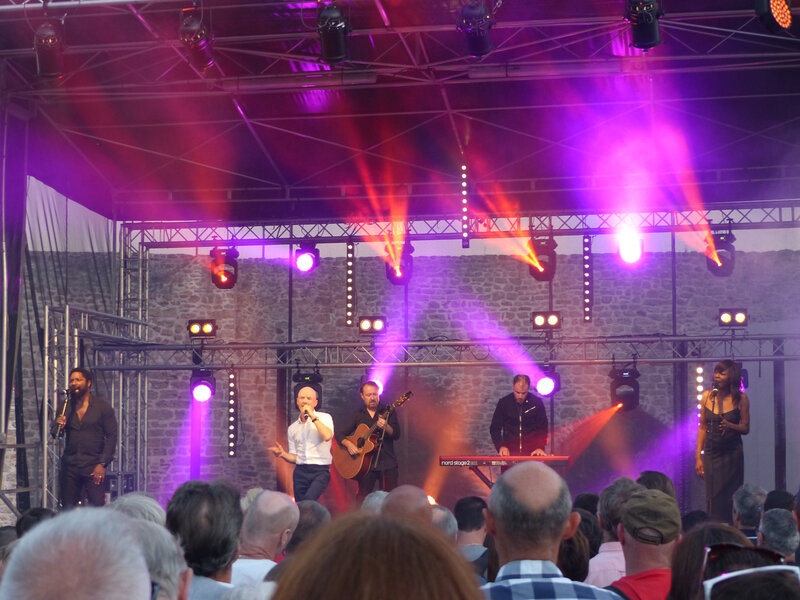 24 juillet 2018
4 août 2018
Jimmy Somerville en concert entièrement acoustique au Château d'Hardelot, département du Pas-de-Calais.
Le concert est gratuit mais les places sont limitées à 2000.
- 1000 places seront à retirer à l'accueil du Château à partir du mardi 31 juillet, 10h.
- 1000 places seront disponibles le jour du concert à partir de 18h.
Le concert débutera à 20h. avec en première partie Sam Sauvage.

Pour plus de renseignements : www.chateau-hardelot.fr
19 août 2018
Dans le cadre des célèbres "Rewind Festival", qui fêtent au passage leur 10 ans, Jimmy sera sur la scène du Rewind South à Henley-on-Thames au Royaume-Uni, le dimanche 19 août. Il sera exceptionnellement rejoint par Sarah-Jane Morris pour, personne ne peut en douter, interprétation enflammée de Don't Leave Me This Way.
Pour plus de renseignements : south.rewindfestival.com
Après le rachat, il y a tout juste un an, d'une partie du catalogue de la London Records, le label français Because Music semble vouloir exploiter les enregistrements du Bronski Beat dans sa première incarnation avec Jimmy Somerville. De toute évidence des recherches ont été effectuées dans les archives comme en attestent les 2 photos de master tapes (enregistrements originaux sur bandes magnétiques) publiées successivement sur les réseaux sociaux.

[1] >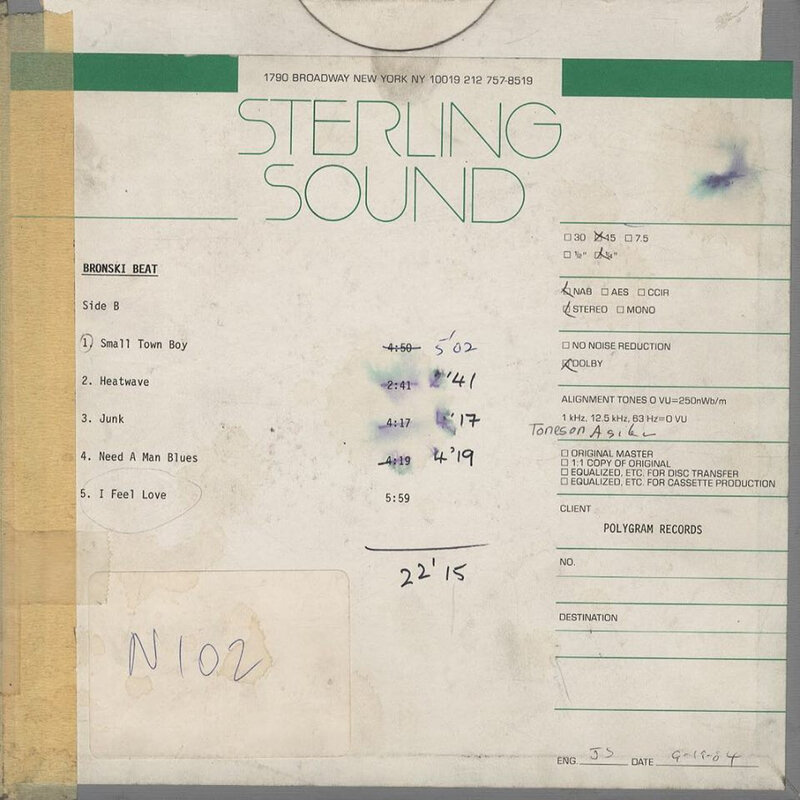 [2] >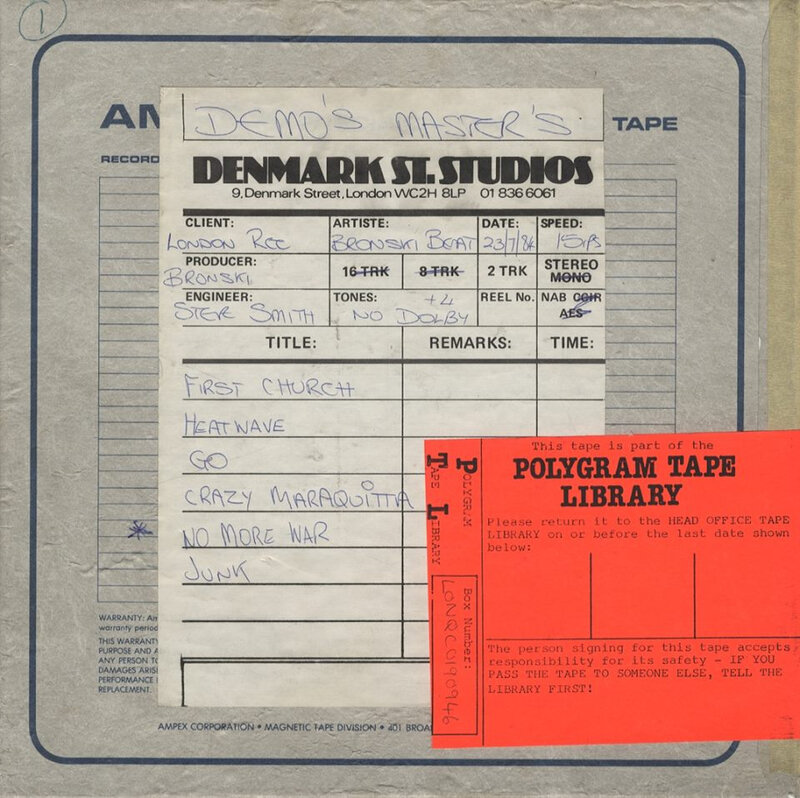 [1] La première master tape est celle de la face B de l'album The Age Of Consent, enregistrée au studio Sterling Sound en septembre 1984. [2] La seconde master tape, enregistrée aux studios Denmark Street en juillet 1984, regroupe 6 titres dont certains, a priori, sont inédits (First Church, Go, Crazy Maraquitta) et d'autres sont les titres biens connus mais semblent-ils dans leur version démo (Heat Wave, No More War, Junk). En somme un véritable petit trésor !

En outre, une page dédiée au Bronski Beat sur Facebook a été réactivée, publiant régulièrement des photos, des vidéos rares...
Tout cela laisse augurer d'une publication avec peut-être des démos ou des inédits. Because Music veut sans doute surfer sur la vague intarissable de réédition vinyle ou CD de nombre d'artistes des années 80. Il faut espérer que le catalogue de Jimmy Somerville chez London Records de 1984 à 1996 va bénéficier d'un pareil traitement. Croisons les doigts !
02 mars 2018
A l'occasion de la cérémonie des Césars 2018,
où le film "120 Battements Par Minute" de Robin Campillo
est nommé dans nombreuses catégories
dont celle de la "meilleure musique originale",
Rebecca Manzoni, dans sa 500ème chronique Tubes&Co, ausculte
Smalltown Boy du Bronski beat.
Smalltown Boy a fait l'objet d'un remix
du compositeur de la BO du film Arnaud Rebotini,
suscitant un regain d'intérêt autour du titre lors du Festival de Cannes 2017
et lors de la sortie du film en salle en septembre.
La chronique permet d'entendre un extrait de la prise "voix" uniquement du titre original, par ailleurs présente dans une scène-clé du film.