Après Smalltown Boy, Why?, Ain't Necessarily So et I Feel Love (avec Marc Almond en rupture de Soft Cell), Bronski Beat sort un single, en septembre 1985, pour promouvoir un mini-album remix (c'était à la mode à l'époque après le succès d'un album) intitulé Hundreds & Thousands (pochette bleue avec un gâteau affublé du logo carré-triangle-cercle présent sur l'album The Age Of Consent). C'est une chanson inédite : Run From Love produite, comme les autres singles du Bronski Beat, par Mike Thorne. Ce single n'est pas disponible dans le commerce mais uniquement en promo (45t et maxi-45t) envoyé aux radio et aux discothèques. A noter que la version courte de Run From Love demeure inédite en CD. Run From Love réapparait en 1990 sur The Singles Collection 1984-1990 dans une nouvelle version avec Claudia Brücken en backing vocals, produite par Pascal Gabriel, puis en 1991 en single, nouvelle version encore une fois, produite par Phil Harding et Ian Curnow.
Run From Love du Bronski Beat est donc la dernière apparition discographique avec Jimmy Somerville comme chanteur et parolier. Jimmy réapparait, dès octobre 1985, au sein de The Communards, avec leur premier single : You Are My World. Steve Bronski et Larry Steinbachek se répandent en propos malveillant à l'égard de Somerville comme à la une du Melody Maker du 21 septembre 1985 avec le titre suivant : Bronski Beat 'Our two years of hell with a million dollar socialist'. Ils annoncent aussi la poursuite du Bronski Beat avec un nouveau chanteur (John Jon) et de la sortie prochaine d'un single (Hit That Perfect Beat) puis d'un album (Truthdare Doubledare).
Voici donc les 5 références pour ce titre :
7"
BITDJ 5 London Records – white die-cut sleeve with information letter of Pete Tong
a [4'08] Run from love
b [8'09] Hard rain
12"
BITDX 5 London Records – test pressing
BITDX 5 London Records – advance dj copy only
L33-17063 MCA records – promotional only not for sale
a [8'14] Run from love
b [8'09] Hard rain
886 009-1 Metronome Musik GmbH – 'for promotion only!' – exclusive p/s 'Bronski Beat including Jimmy Somerville'
a [8'14] Run from love (album version)
b [4'08] Run from love (single version)

7"
12" test pressing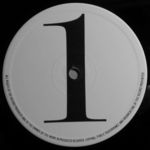 12" advance dj copy only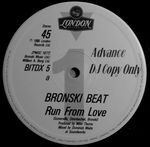 12" USA promo