Les nouvelles sont plus que excellentes : Solent EP sera disponible la semaine prochaine (vendredi pour nos amis allemands, salutations à Heiko, Torsten et Astrid) et Demon Music Group, déjà à l'origine de la compilation "For A Friend: The Best Of...", va ré-édité, sur le sous label Edsel, cet été (le 25 juin, peut-être !) les 3 albums de la période 1984-1988, c'est-à-dire du Bronski Beat et de The Communards.

Ces ré-éditions double CD comprennent l'album (probablement remastérisé) mais aussi :

- pour "The Age Of Consent", l'album remix "Hundreds & Thousands", toutes les b-sides, des versions étendues ou remixées disponibles sur maxi45t (12") de diverses origines (I Feel Love (source mix) des Etats-Unis ou Run From Love (radio version) d'Allemagne). Certaines chansons ou versions n'ont jamais été disponibles en CD jusqu'à maintenant.

- pour "Communards", toutes les b-sides (j'attends avec impatience Heavens Above (10" version), Sentimental Journey et Johnny Verso), des versions étendues, remixées ou instrumentales (certaines sont franchement rares comme So Cold The Night (instrumental))

- pour "Red", toutes les b-sides (les petits instrumentaux de Richard Coles, YES!), des versions étendues ou remixées et, cerise sur le gâteau, les versions live à l'Olympia de décembre 1987 que l'on ne pouvait écouter jusqu'à présent que sur les 3 maxi45t de For A Friend.

Voici les informations en anglais avec les tracklistings précis :



Edsel Records have announced the brand new Bronski Beat/ The Communards reissues for this summer.
The reissue package will include the first album by Bronski Beat, 'Age of Consent' and 'Hundreds And Thousands' as a remix album. It will also include both albums by the Communards, their self titled debut and 'Red' and their live album 'Storm Paris', originally released on three 12" singles. The albums will be released as slip-cased 2 CD edition and some tracks will be available on CD for the first time.

The booklet will contain the lyrics, photos, singles sleeves, and a note from Jimmy.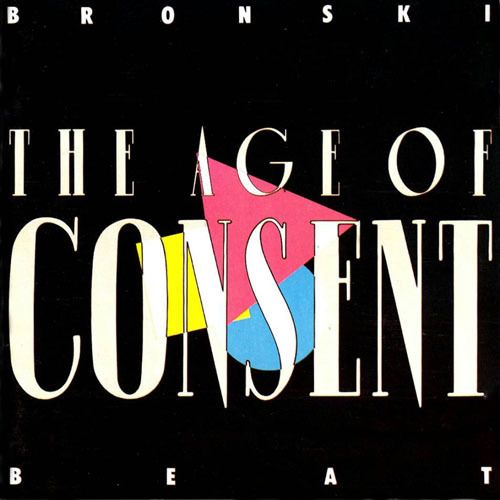 The Age Of Consent/Hundreds & Thousands
CD 1
1 Why?
2 It Ain't Necessarily So
3 Screaming
4 No More War
5 Love and Money
6 Smalltown Boy
7 Heatwave
8 Junk
9 Need-a-Man Blues
10 I Feel Love/Johnny Remember Me

bonus tracks
11 Smalltown Boy [7" edit]
12 Why [remix]
13 I Feel Love Medley (Source Mix)
14 It Ain't Necessarily So [12" version]
15 Red Dance

CD 2
1 Heatwave [Goldberg remix]
2 Why? [Goldberg remix]
3 Run From Love [Meita remix]
4 Hard Rain [Goldberg remix]
5 Smalltown Boy [Goldberg remix]
6 Junk [Goldberg remix]

bonus tracks
7 I Feel Love [Fruit Mix]
8 Hard Rain [demo]
9 Screaming [demo]
10 Signs (And Wonders)
11 The Potato Fields
12 Run From Love [radio version]
13 Puit D'Amour
14 Close To The Edge
15 Cadillac Car
Communards
CD 1
1 Don't Leave Me This Way
2 La Dolarosa
3 Disenchanted
4 Reprise
5 So Cold The Night
6 You Are My World
7 Lover Man
8 Don't Slip Away
9 Heavens Above
10 Forbidden Love
11 Breadline Britain
12 Disenchanted (Dance)

bonus tracks
13 Judgement Day
14 Don't Leave Me This Way [Son Of Gotham City Mix 1986] [Part 1] (incorporates Sanctified)
15 When The Walls Come Tumbling Down [live]

CD 2
1 You Are My World ['87 Single Version]
2 Don't Leave Me This Way [Son Of Gotham City Mix] [Part 3]
3 So Cold The Night [Remixed Club Version]
4 Heavens Above [10" version]
5 Johnny Verso
6 Sentimental Journey
7 The Message
8 Disenchanted [instrumental]
9 So Cold The Night [instrumental]
10 Never No More
11 Sanctified
12 When The Walls Come Tumbling Down
13 The Multimix (inc. Don't Leave Me, So Cold The Night, Disenchanted)
14 Annie
Red
CD 1
1 Tomorrow
2 T.M.T. Love T.B.M.G.
3 Matter Of Opinion
4 Victims
5 For A Friend
6 Never Can Say Goodbye
7 Lovers And Friends
8 Hold On Tight
9 If I Could Tell You
10 C Minor

bonus tracks
11 For A Friend [unplugged]
12 Never Can Say Goodbye [San Paulo Mix]
13 Romanze For Violin, Piano & Hedgehog
14 There's More To Love [Jalapeno Mix]
15 Tomorrow [extended 12" version]
16 Zing Went The Strings Of My Heart

CD 2
1 Never Can Say Goodbye [Shep Pettibone Extended Mix]
2 When The Boy In Your Heart Is The Boy In You Arms
3 I Just Want To Let You Know
4 Scat
5 Piece Of Saxophone
6 Never Can Say Goodbye [San Paulo Dub Mix]
7 For A Friend [remix]
8 Victims [live]
9 Don't Leave Me This Way [live]
10 Heavens Above [live]
11 You Are My World [live]
12 So Cold The Night [live]
13 For A Friend [live]
14 Never Can Say Goodbye [live]
15 Hold On Tight [live]
16 Spanish Rap (El Amor No Es Solo Un Hombre Y Una Mujer)
17 Never Can Say Goodbye [Instrumental Mix]