SINGLE
Title: WHY?
Artist: Bronski Beat
Catalogue n°: BITE 2
Label: Forbidden Fruit / London Records Ltd.
Released: september 1984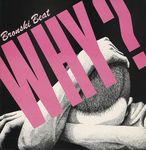 Second single du Bronski Beat sorti en septembre 1984, trois mois après 'Smalltown Boy' et moins d'un mois avant la sortie de l'album 'The Age Of Consent'. Le texte de cette chanson est directement inspiré par un ami du groupe, Martin, qui fut expulsé de Grande Bretagne pour avoir eu une aventure amoureuse avec un garçon âgé de moins de 21 ans (l'âge du consentement légal, the age of consent, pour une relation homosexuelle dans les 80's). Ce disque est en outre dédicacé à Drew Griffiths, acteur de théâtre britannique, co-fondateur de la compagnie Gay Sweatshop, auteur en 1977 avec Noel Greig de la pièce 'As Time Goes By', qui fut assassiné le 16 juin 1984. 'Why?' connut le même succès que son prédécesseur en se classant n°6 en Royaume-Uni et n°2 en Allemagne. Les références discographiques tournent autour de 2 formats : un 45 t. (7") et un maxi-45 t. (12"). La version 'extended mix' se distingue par son efficacité et reste selon Mike Thorne lui-même une de ses plus belles réussites en la matière. De cette version fut éditée la version single. On retrouve ses deux versions sur la compilation 'The Very Best Of' Collector's Edition (2-CD - 2002). La b-side, 'Cadillac Car', se décline aussi en 2 versions, dont la plus courte reste inédite en CD, la plus longue se trouvant en bonus sur la version CD de 'Hundreds & Thousands'.
7" : FR (882 014-7 – Barclay) – p/s
7" : FR (882 014-7 – Barclay) – p/s with little pink stripe: "musique du film publicitaire Peugeot 205"
7" : JP (SO7P 1057 – Polydor K. K.) – different p/s
a [3'55] Why?
b [3'54] Cadillac car
7" : US (MCA-52565 – MCA Records) – promotion copy not for sale in 7" p/s reproduced 12" p/s !
a [3'54] Why?
a [3'54] Why?
7" : CA (LDS 219 – PolyGram) – p/s
a [3'48] Why?
b [4'46] Close to the edge
12" : UK (BITEX 2 – London Records) – advance dj copy only
12" : UK (BITEX 2 – London Records) – p/s
12" : FR (882 014-1 – Barclay) – p/s – "maxi 45 tours"
12" : US (MCA-23538 MCA records) – p/s – stamp "for promotion only"
a [7'45] Why? (extended mix)
b [8'02] Cadillac car
12" : UK (BITEX 2 – London Records) – p/s stickered "special limited edition with bonus track"
a [7'45] Why? (extended mix)
b1 [8'02] Cadillac car
b2 [5'01] Smalltown boy
12" : CA (BEAT 1 – PolyGram) – special outer (Why?: black/yellow) and inner (I feel love) sleeves
a1 [7'45] Why? (extended mix)
a2 [4'46] Close to the edge
b1 [9'43] I feel love (extended 12" remix)
b2 [1'38] Puit d'amour
12" : ?? (DMC 157/1) – "DMC Remix Culture" for DJ only
a1 Sasha – Together (Big C remix)
a2 Evelyn 'Champagne' King – I'm In Love (Sweet Mercy remix)
b1 Bronski Beat – Why? (Andy Gardener & Matt Cantor remix)
b2 Chic – Dance Dance Dance (turntable cut up)