Voici donc une nouvelle compilation (encore une !) qui n'a rien de révolutionnaire ni même d'inédit. Le tracklisting est assez pertinent et permet pour moins de 10€ de découvrir ou redécouvrir la carrière de Somerville de 1984 à 2009. Il y a en effet 2 titres du dernier album 'Suddenly Last Summer' dont on se demande pourquoi il n'a pas droit à une sortie autre que digitale. Le packaging est plutôt sympa avec des notes abondantes d'un certain Eugene Manzi et des photos de différentes périodes dont une époque "Red Wedge".
A noter aussi que dans la même collection 'Music Club Deluxe', il existe une compilation des Fine Young Cannibals intitulée 'She Drives Me Crazy: The Best Of...' avec pour les fans de Jimmy 2 versions de 'Suspicious Mind' dont le US remix de 5'18. Référence MCDLX098.
FOR A FRIEND: THE BEST OF BRONSKI BEAT, THE COMMUNARDS & JIMMY SOMERVILLE
MCDLX100
Music Club Deluxe, 2009
Demon Music Group Ltd.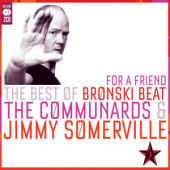 CD.01
1 Smalltown Boy
2 Why?
3 Ain't Necessarily So
4 I Feel Love (medley with Marc Almond) (12" version)
5 Screaming
6 Run From Love (remix from Hundreds & Thousands)
7 Hard Rain (remix from Hundreds & Thousands)
8 Don't Leave Me This Way (feat. Sarah Jane Morris) (12" version)
9 La Dolarosa
10 Disenchanted
11 So Cold The Night
12 You Are My World
13 Forbidden Love
14 Breadline Britain
15 Tomorrow
16 There's More To Love [Than Boy Meets Girl]

CD.02
1 Victims
2 For A Friend
3 Never Can Say Goodbye (Freddie Bastone's San Paulo remix) (Shep Pettibone extended mix)
4 Comment Te Dire Adieu
5 You Make Me Feel (Mighty Real)
6 Read My Lips (Enough Is Enough)
7 Heartbeat
8 By Your Side
9 Safe (Todd Terry short session)
10 To Love Somebody
11 Lay Down
12 Dark Sky
13 Something To Live For (Sounds Of Life mix)
14 Can't Take My Eyes Off Of You
15 Come On
16 Could It Be Love
17 Sweet Unknown
18 People Are Strange

http://www.demonmusicgroup.co.uk/Product.aspx?ProductID=4580
Smalltown Boy was the first time anyone heard the voice of Jimmy Somerville; the voice of an angel. When Jimmy Somerville first appeared on TV nobody could believe the voice came from this tough, little, feisty Glaswegian who was always punching above his weight. Making the message as important as the music was Jimmy's aim, yet fame was a burden that he's still trying to unload; but he succeeded in three careers: as lead singer with Bronski Beat, then with The Communards, and up to the present time as a solo artist. This compilation charts Jimmy's music from agit prop to songs of love lost and found to raging, horny disco.
• A comprehensive collection spanning all three of Somerville's creative guises across a 25-year period.
• Contains ten Top-20 singles and a host of album tracks and popular remixes.
• Artwork and track-listing created with the advice and approval of Jimmy Somerville.
• Sleevenotes written by renowned press officer Eugene Manzi, featuring an exclusive interview with Jimmy Somerville himself.