14 septembre 2019
35 years ago, today!
WHY? the amazing second single
by Bronski Beat out this day in 1984.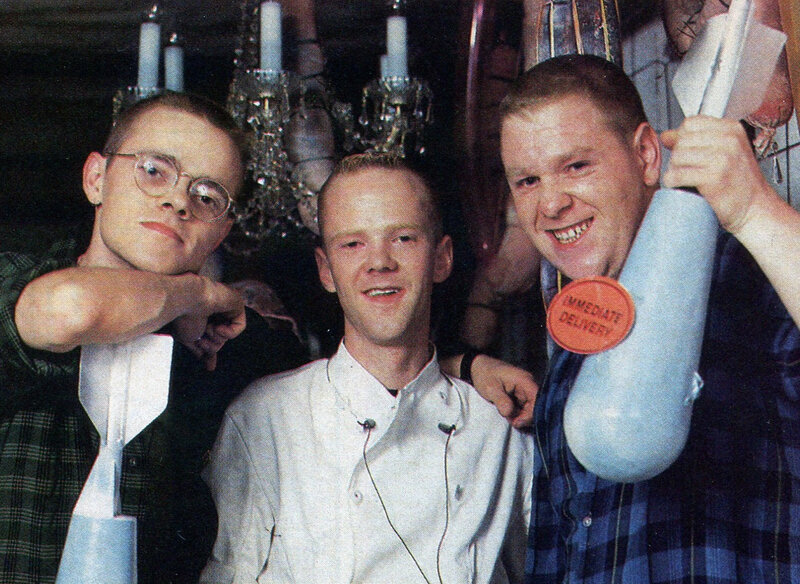 « This was written for Martin, a friend of the Bronskis who was hounded out of the country by his boyfriend's irate and violent parents. It's a measure of what makes this lot speciel that they've managed to parcel up all their anger about Martin's harrassment into a joyous disco record that's almost certain to storm the dancefloors. » (Smash Hits, sept. 84)
The song was also dedicated to the memory of playwright Drew Griffiths, a victim of a homophobic murder in 1984. The case has never been solved and nobody has been brought to justice.
Reached :
n° 2 in Netherlands
n° 3 in Belgium
n° 5 in Germany
n° 6 in UK and Ireland
n° 7 in Switzerland
n° 8 in France
n° 10 in Australia
n° 11 in New Zealand
[…]
n° 20 in US (Billboard Hot Dance Music/Maxi-Singles Sales)
[in collaboration with Official Jimmy Somerville Fan Page]
17 août 2019
Jimmy Somerville
MANAGE THE DAMAGE
(20th Anniversary Limited Edition)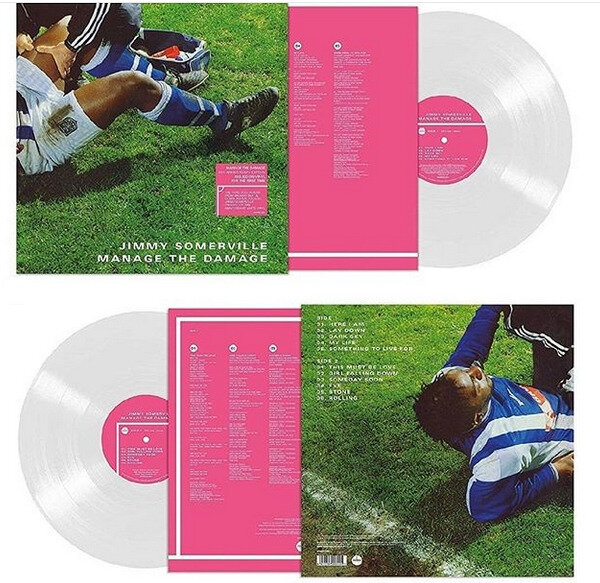 Format: white vinyl
Label: Demon Records
(label of Demon Music Group specialized in vinyl reissue)
Date: 20/09/2019

04 août 2019
Summer is here!
Ten years ago, Jimmy gave us
S u d d e n l y L a s t S u m m e r
a collection of acoustic covers…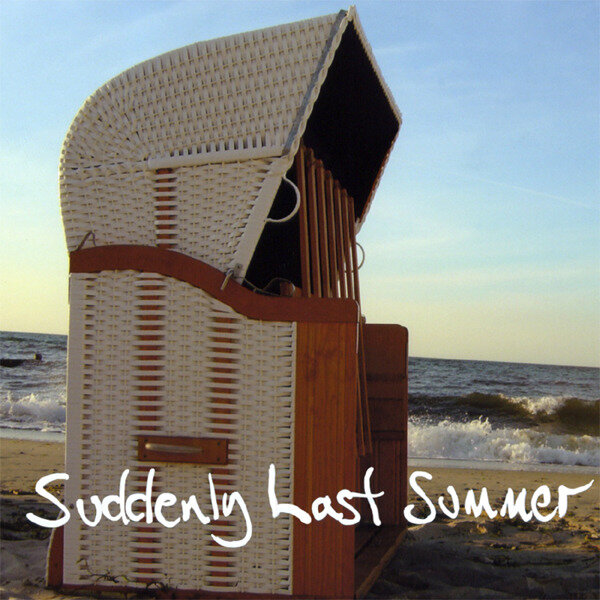 It's time to (re)discover all these original classical songs:
« An amazing performance from the first track to the last, Jimmy's voice touches the soul in places seldom visited, making 'Suddenly Last Summer' one of his sexiest and most heartfelt records yet. » (The Daily Ring, May 2009)

1. It's Love by Blossom Dearie in 1959.
« 'I Just Don't Know What To Do With Myself' takes me back to being a kid, being glued to the TV, watching The Dusty Springfield Show and wondering « is there an unknown world in her big hair? » »
2. I Just Don't Know What To Do With Myself by Dusty Springfield in 1964.

« The most obvious song choice is Blondie's 'Hanging On The Telephone' (originally written by The Nerves) though he again strips it of its disco overtones and reduces it to a finger picked guitar and piano ballad. It suits the song perfectly with Somerville's soul intonations and effortlessly sweet tone and he brings a sadness to the song that is absent from Debbie Harry sung version. It is rare that a cover version can differ so radically from the original and still be as good. » (doubtfulsounds.net, June 2009)
3. Hanging On The Telephone by Blondie in 1978

« […] on 'Black Is The Colour Of My True Love's Hair' Jimmy takes the traditional folk song popularised by Nina Simone and creates a smoky torch song paean to lovers. » (doubtfulsounds.net, June 2009)
4. Black Is The Colour Of My True Love's Hair by Nina Simone in 1969
« The mad thing was, blimey… what songs?!! I have 5000+ songs on my i-toons, ARRRRGH!!!! It was so hard to choose. So these songs, they are about times and place for me. That's the magic of music. » (JS, 2009)
5. Hush by Deep Purple in 1968

« After the album was finally mixed, I realised it really was the case that "Suddenly Last Summer" in Australia, I found myself on Mangrove Mountain, a great studio at my disposal for 6 days, the most wonderful bunch of fellas who are also very talented musicians and technicians, recording songs I have loved for many years. » (Official JS Fan Page, 2009)
6. Sweet Unknown by Cranes in 1997

« 'Where Have All The Flowers Gone?' is still as evocative as ever an anti war song. » (JS, 2009)
7. Where Have All The Flowers Gone? by Marlene Dietrich in 1965
« 'My Heart Belongs To Daddy'... That is purely for da Bears out there!!! » (Official JS Fan Page, 2009)
8. My Heart Belongs To Daddy by Peggy Lee in 1953
24 mai 2019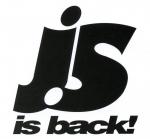 Released 20 years ago today (24th May 1999),
the single 'LAY DOWN' was a few weeks ahead of
a new album 'Manage The Damage'.

For Jimmy, to sample the song 'Contact'
was to pay tribute to its author,
Serge Gainsbourg,
who was a true genius.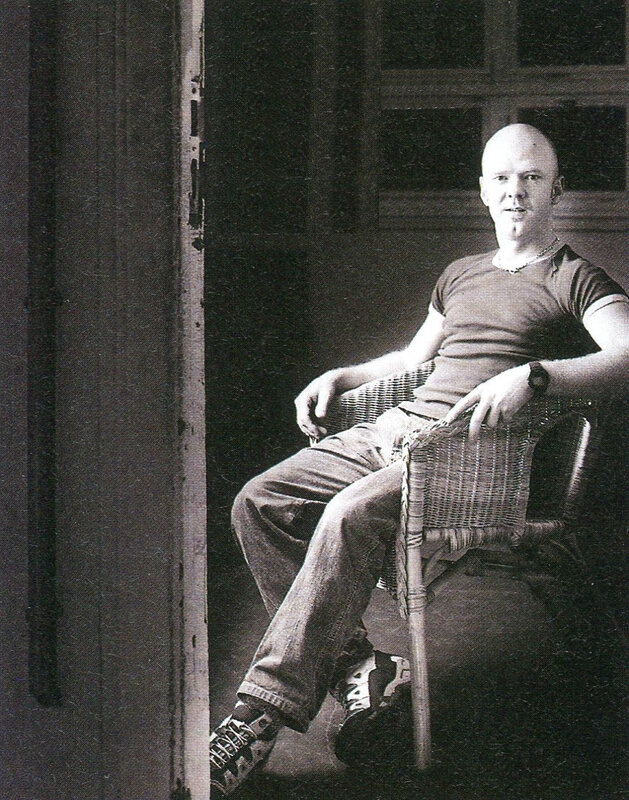 "LAY DOWN"
is available on
MANAGE THE DAMAGE
3 DISC EXPANDED EDITION
>> HERE <<

20 mai 2019
20th May 1984, so just 35 years ago!
SMALLTOWN BOY
by
Bronski Beat
"a touching lyric about leaving home,
a remarkably agile but controlled vocal
and a good song that recalls Yazoo or Eurythmics
in its effective use of electronic simplicity"
Smash Hits, May 84.
"Singer Jimmy Somerville adds a warmth and frailty
to the electronic disco backing which is irresistable."
N°1, May 84.
"If you make a check-list of
every element of great synthpop,
you can find it in this record.[...]
When something is as
perfect an example of an artform as this,
it simply... is."
Classic Pop, April/May 2014.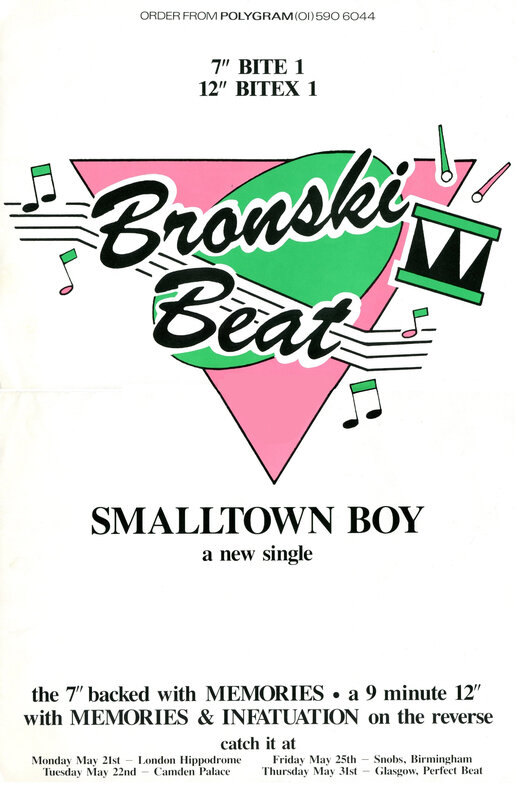 Original UK in-store promo poster
SMALLTOWN BOY
(album, 12" and remixed versions)
is available on
2018 Deluxe Remastered & Expanded
2CD | Ltd. Ed. Pink Vinyl | Ltd. Ed. Picture Disk
>> HERE <<
19 mai 2019
"Formed a year ago
with only a dozen concerts to his credit,
Bronski Beat was on NME front cover
19 May 1984."
So just 35 years ago!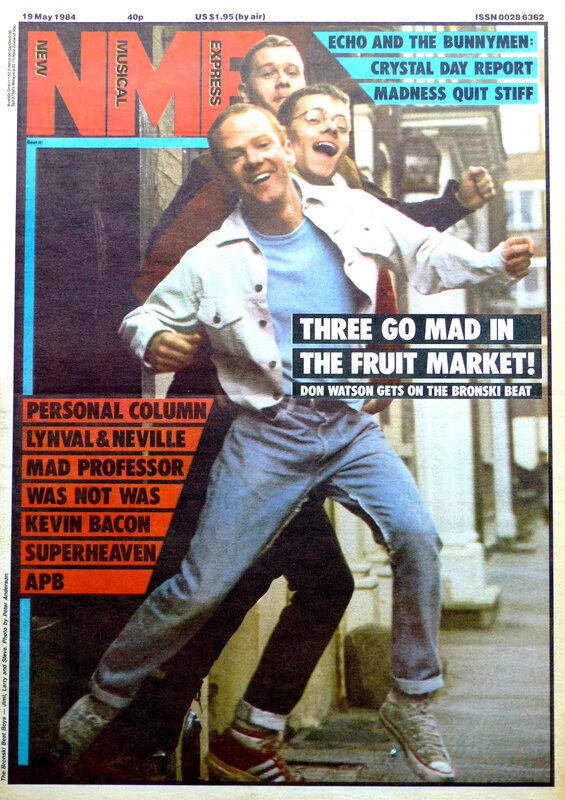 03 mars 2019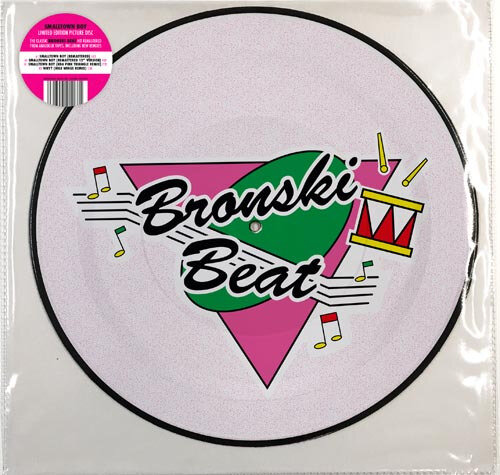 Smalltown Boy RSD 2019
12" Limited Edition Picture Disc
A1. Smalltown Boy (Remastered) 05:03
A2. Smalltown Boy (Remastered 12" Version) 9:01

B1. Smalltown Boy (KDA Pink Triangle Remix) 07:32
B2. Why? (Wax Wings Remix) 05:30
"To celebrate 35 years of Bronski Beat playing their first gig, London Records recently reissued 'The Age Of Consent.' This limited-edition picture disc exclusive to Record Store Day features the era-defining pop classic 'Smalltown Boy' remastered from analogue tapes. Plus for the first time on vinyl the huge recent KDA remix of the track, the extended club mix and the Wax Wings remix of 'Why?' Packaging : 12"" picture disc with original Bronski Beat logo in clear plastic sleeve with flap."
26 novembre 2018
25th of January 2019,
the wrongly underrated album
"Manage The Damage"
will be released
as a 3CD deluxe version
with many bonus tracks.
Jimmy Somerville's third solo album, 1999's "Manage The Damage" was his first as an independent artist after splitting with London Records in 1995 after twelve years of recording with them both as a solo artist and with bands Bronski Beat and Communards. This is the first ever expanded edition of this album and, developed in conjunction with Jimmy's management, with its 43 tracks over three discs, celebrates both the album and all of its associated singles. All the B-sides and a wealth of dance floor remixes are included herein. The deluxe packaging includes a comprehensive 32 page booklet insert containing song lyrics, a treasury of promotional photos from the period and a detailed essay on the album and its sensibilities written by 'Andy Bell is Torsten' playwright Barney Ashton.
The album was a songwriting and production collaboration with Sally Herbert (Banderas, Communards) who was, at the time, Jimmy's flat-mate; the album was mostly written in their home studio on the then emergent new songwriting technology 'Pro Tools'.
Jimmy's first bona fide independent release after his London Records era had been the 1997 re-record, and remixes thereof, of 'Safe', a favourite song of Jimmy's from his previous solo album 'Dare To Love' that he had originally recorded for London Records as the album track 'Safe In These Arms'. These tracks were, however, not released in the UK at the time and this expanded edition collects together the best of those remixes of 'Safe' as well.
Jimmy's new found freedom enabled him to write his most nuanced, honest and direct album; the lyrics deal with the fallout from domestic violence, the fallacy of imposition of religious morality, prostitution, the optimism generated by the new 'combination therapies' in the treatment of HIV and, as always with Jimmy, "Manage The Damage" is a heartfelt celebration, and promotion of, homosexual sensibilities, social activism and love.
SFE 075T CD 1
MANAGE THE DAMAGE

01. HERE I AM 04:15
02. LAY DOWN 04:01
03. DARK SKY 03:16
04. MY LIFE 04:33
05. SOMETHING TO LIVE FOR 03:52
06. THIS MUST BE LOVE 05:05
07. GIRL FALLING DOWN 03:55
08. SOMEDAY SOON 03:35
09. EVE 03:49
10. STONE 04:22
11. ROLLING 02:59
12. BLAME 04:28
13. I BELIEVE 3:59
14. TEAR FOOL 05:41
15. MOVING ON 03:13
16. LAY DOWN (Almighty Radio Edit) 03:45
17. SOMETHING TO LIVE FOR (Sounds Of Life Full Vocal Radio Mix) 04:14
18. SAFE (Todd Terry 7") 03:47
19. DARK SKY '98 03:24

CD 2 - "CLUB ROOT BEER" THE DANCE REMIXES

01. SOMETHING TO LIVE FOR (Sounds Of Life Full Vocal Club Mix) 5:55
02. SAFE (Todd Terry Long Session) 06:47
03. DARK SKY (S&H Mix) 05:35
04. LAY DOWN (Sounds Of Life Remix) 05:54
05. SOMETHING TO LIVE FOR (WayneG's Heaven Mix) 06:56
06. SAFE (DJ Tonka 12") 08:04
07. DARK SKY (J&S 12" Peg's Study Mix) 06:59
08. LAY DOWN (Almighty Vocal Club Mix) 06:37
09. SAFE (DJ Dovzki Extended Mix) 07:19
10. DARK SKY (Tony De Vit Mix) 08:07
11. SAFE (Todd Terry Dub) 06:16

CD 3 - "CLUB ROOT BEER" FURTHER REMIXES PLUS

01. LAY DOWN (Hoop Laid Up Mix) 05:40
02. SOMETHING TO LIVE FOR (Extended Mix) 05:01
03. DARK SKY (Dillon & Dickins Mix) 06:49
04. SAFE (Get Far Mix) 06:36
05. LAY DOWN (Bonus Disco Mix) 08:12
06. SOMETHING TO LIVE FOR (Radio Mix) 03:33
07. DARK SKY (Only Child Mix) 05:43
08. SAFE (Todd Terry 12") 06:24
09. LAY DOWN (Video Edit) 03:08
10. SOMETHING TO LIVE FOR (Sounds Of Life Dub Mix) 06:37
11. DARK SKY (Sure Is Pure Mix) 06:24
12. SAFE (DJ Tonka Instrumental) 08:02
13. SOMETHING TO LIVE FOR (with the Melbourne Gay & Lesbian Chorus) 04:08
20 octobre 2018
La version vinyle rose de The Age Of Consent :
29 septembre 2018
L'édition 2CD deluxe du 35ème anniversaire de carrière :
« Mon propos, c'était la vérité. Mais aussi mes émotions, mes espoirs, ma sexualité, ma vie. Je n'avais peur rien et j'étais surmotivé à combattre la politique de discrimination que je vivais au quotidien. Je ne m'imaginais pas devenir une pop star, je me voyais comme un fauteur de troubles » Jimmy Somerville, 2018.
Il y a 35 ans en septembre 1983 , Bronski Beat donnèrent un concert légendaire dans le club et antre de paix de référence pour les gays Londoniens, le Heaven. S'ensuivit la sortie d'un 1er album «The Age Of Consent» pour lequel les mots anglais « an era defining album » sont plus que justifiés. C'est un album qui a même défi ni toute une génération. Des titres comme «Smalltown Boy» ou «Why ?» furent à la fois en même temps des hymnes pour la communauté gay et des tubes pop mondiaux, et continuent en 2018 d'être des tubes de dance-floor.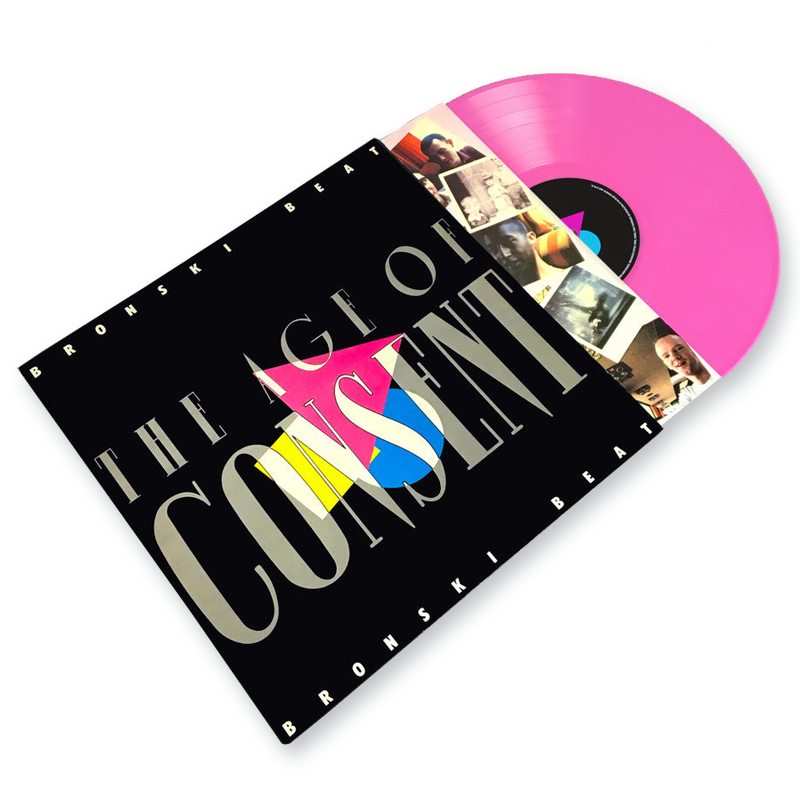 Bronski Beat ont fait bien plus qu'un album musicalement révolutionnaire, sa portée fut éminemment politique. Ils ont fait un working-class album, et Jimmy Somerville fut un working class hero très engagé aux côtés d'autres artistes tels Joe Strummer dans l' Angleterre Thatchérienne de l'époque. L'expression musicale de Bronski beat en était certes aux antipodes, mais pourtant on peut le dire : Jimmy Somerville fut plus punk que beaucoup de punks.
35 ans après, grâce au travail du nouveau label London crée par le groupe Because Music, voici la réédition deluxe de l'album à laquelle tant Jimmy Somerville que le graphiste de l'album ont activement participé.
Because Music